Sioux Falls First Learning Center strives to provide a solid foundation of spiritual growth, academics, physical development and relationship skills-- all in a safe, fun and friendly environment. Our Preschool and Childcare Center is a ministry of Sioux Falls First Assembly of God- where we believe that with the knowledge of God comes the beginning of wisdom, and that each child is uniquely created by God as a physical, intellectual, social, and spiritual being.
Our mission at Sioux Falls First Learning Center is to train, prepare and equip our children in spiritual, academic, and physical excellence for fulfilling the Lord's great commission to win the lost. (Matthew 28:19-20)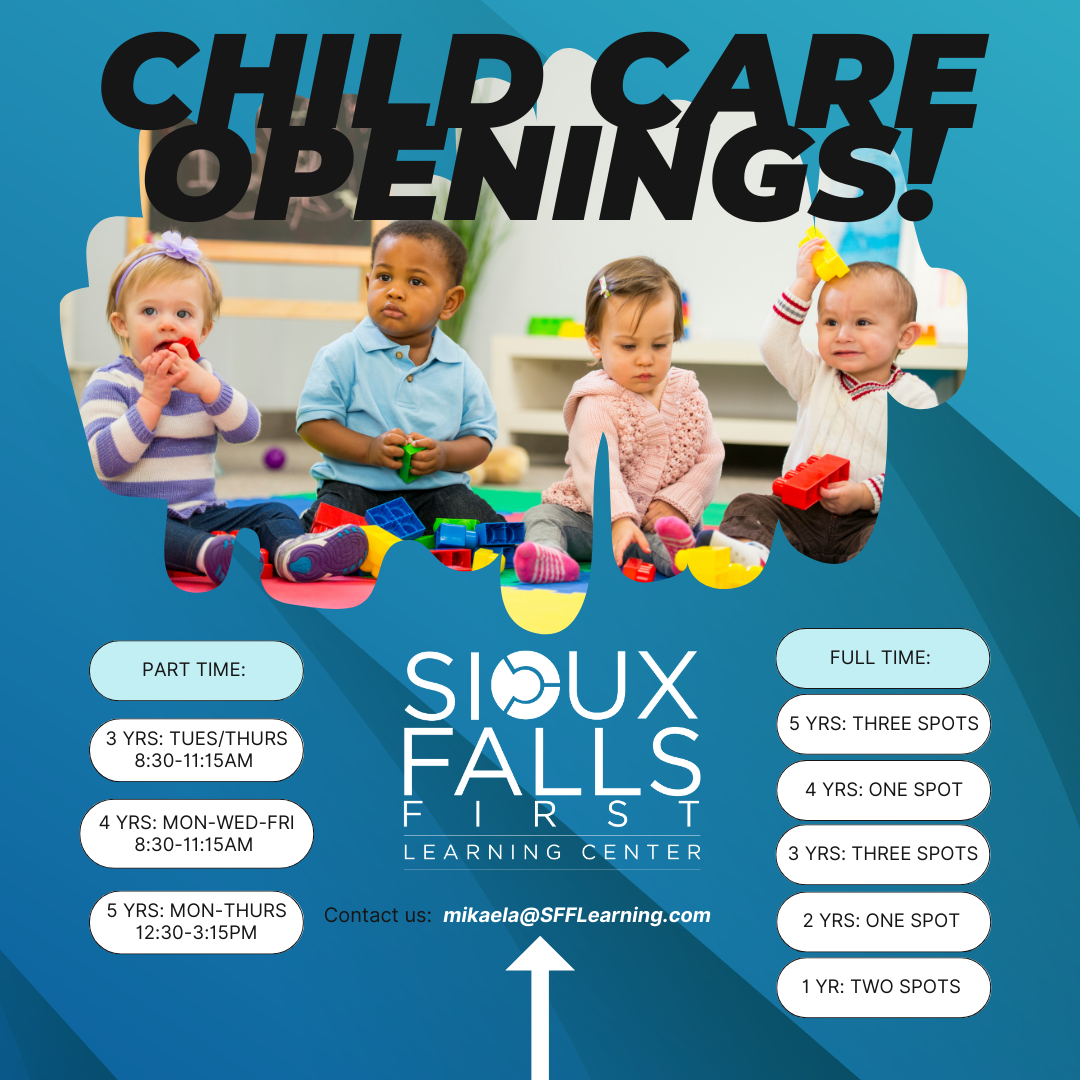 Our classrooms strive to provide an atmosphere of love and acceptance for every child in our care, just as our Lord has provided for each one of us.
PHILOSOPHY OF EDUCATION
Sioux Falls First Learning Center provides a developmentally based program in a Christ-centered environment designed especially for young children. We work to develop caring, respectful, and responsive relationships with children from infancy through elementary age by partnering with families to support each child's growth and development. Respect for each child's individual personality, learning style, interests, culture, and logic are central to the direction the curriculum follows. Our teachers support each child's disposition to learn while (1) facilitating their learning and (2) fostering competencies in all domains, including intellectual, physical, social and emotional development through The Creative Curriculum and the GOLD learning assessment tool. Each of our programs are built upon a solid foundation of developmental theory and early education research, and the belief that each activity, routine, or experience is a chance to educate and expand upon what your child already knows about his or her world. This promotes creative expression and the development of vital social skills.
FAITH STATEMENT
We believe:
the Bible is verbally inspired by God, inerrant in the original writings, and that the Scriptures are the final authority in faith and life
there is one God, eternally existent in three persons: Father, Son and Holy Spirit.
in the literal account of creation in that man was created in the image of God, that man sinned causing not only physical death, but also spiritual death, which is separation from God: and that all human beings are born with a sinful nature
that the Lord Jesus Christ died as a sacrifice for our sins according to the Scriptures, and rose again for our redemption, and that all who believe in Him are saved by God's grace through faith in Jesus Christ
in the present ministry of the Holy Spirit, whose indwelling empowers Christians to live godly lives.
in the personal separation from all practices and influences which hinder a Spirit-filled life.
that it is the privilege and responsibility of every believer to be a personal soul winner and share the Gospel of Christ with the whole world.
OUR PROGRAMS
CONTACT US
6300 W 41st Street | Sioux Falls, SD | 57106
Phone: (605)361-8002
email: info@sfflearning.com